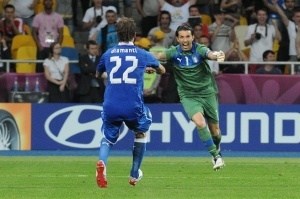 It doesn´t happen quite often but when it does, it is always spectacular! Goalkeepers doing what a center forward should be doing, scoring great goals. Sometimes it can happen in the dying minutes of a match when your team is in desperate need of the equalizer or the winning goal. The keeper enters unfamiliar territory in the oppositions box, working as the extra striker, hoping to head in a goal from a set piece, it doesn´t matter if the opposition team counter attack and hammer the ball into the empty net the other side of the pitch, the goal is vital. Sometimes, the keeper gets the ball and hoofs it up the field, wind playing it´s part, carries the ball over the opposite keepers head and into the net from the length of the entire pitch! No matter how these goals are scored, coming from a goalkeeper, they are all spectacular! Virally Blog has taken the best 10 goals ever scored by goalkeepers and put all 10 videos on this page for you to enjoy.
Peter Schmeichel (Goalkeeper) scores overhead kick in last minute.
Tim Howard scoring against Bolton from his own box.
José Luis Chilavert scoring from a free kick.
Jens Lehmann scoring from a header.
Rogerio Ceni scoring from a free kick…his 100th goal!
Jimmy Glass keeps Carlisle United in the dying minutes with a goal from a corner.
Ali Ahamada scores in extra time with a beautiful header!
Rene Higuita scoring an amazing goal from a free kick, off the bar and into the back of the net!
Marwin Hitz scores an equalizer in the last minute of injury time!
Hansen scores an amazing back heel volley in the dying seconds of injury time.