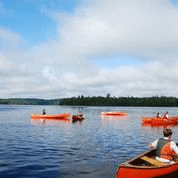 As winter settles in, and we are  back into our  post summer life routine, we are dreaming of summer 2020. What will you be doing?Looking for a summer adventure for 2020?
Have you thought of sending your child to summer camp or working in an incredibly beautiful setting this summer, while learning and having  the adventure of a lifetime?
We cannot rave enough about this incredible summer camp, the Taylor Statten Camps on the shores of the beautiful Canoe Lake in Algonquin Park in Ontario, Canada. Children have an incredibly enriching experience, young adults working at this summer camp  learn skills that will help them  in so many ways in their future professional life and very importantly parents feel safe and secure in the knowledge that their children are happy, safe and learning to collaborate, to be independent and to spend some time away from technology and be just fine.
Canada may be cold and beautifully snowy in the winter, but the summer is something else! Hot sunshine, beautiful lakes, incredible nature and wild life and the friendliest people you will ever meet. Here are 5 reasons we think you will love the Taylor Statten Camps in Canada and this kind of summer adventure on 2020.
5. The beauty of Canoe Lake
Canoe Lake mornings, afternoons, evenings… ah, we can't choose they're all perfect.
4. The sense of accomplishment felt on and after canoe trip
Moving forward as a team, one paddle and one step at a time. All for one and one for all!

3. The contagious energy that fills the dining hall during meals
Your cabin is your summer family and one of the best ways to gather is sharing stories from the day over a delicious meal – and we can't forget to mention how exciting birthdays are!

2. Trying new things and working on unique skills
Every day at camp offers a chance to try something new!

1. Reconnecting with old friends and making memories with new friends
Check out the Taylor Statten Camps