The world of activewear can be a minefield to the untrained shopper. There are hundreds of brands out there offering a huge range of products of drastically varying quality. You want to look stylish, but you don't want to dress like a teenager. You want good quality clothing that will endure hard training sessions, but you don't want to spend a fortune either. Melany K specialises in beautiful activewear for women who want affordable clothing that will make them look great.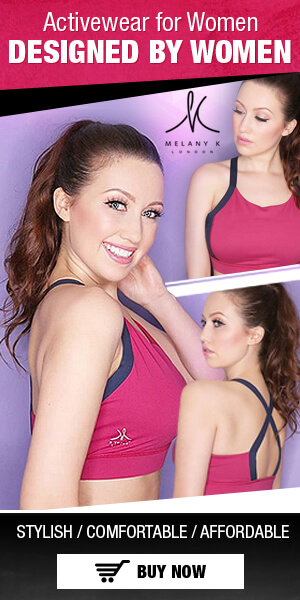 The brand started when Melany, the founder, simply couldn't find the right kind of activewear to suit her body and her needs. As a working mother of two, time was of the essence and she needed something durable in which she felt comfortable and confident. After poring through pages of women's athletics leggings and women's exercise tops, she decided to create her own brand of activewear and design the clothes to be exactly how she wanted them. Thus Melany K was born, a small British activewear boutique, specialising in high quality clothing that is trendy and affordable.
What Does Melany K Have to Offer?
 Melany K is on its way to becoming one of the best activewear brands for women in the UK. Why? Because it combines affordability with quality and puts the customers needs above everything else. The range of products available from Melany K is ever expanding, but right now you can take your pick from a variety of ladies sports shorts, leggings, bras, tops and jackets. The clothes come in all different colours, from bright and playful tones, to dark, flattering shades. Whatever you're looking for, you should find something to suit your body type within the brand's exquisitely curated look book.
What Makes Melany K Unique?
Most activewear brands in the UK and elsewhere cater to people who are already well-established fitness fanatics. There is not much out there for those who only have time to work out a couple of times a week at the most or who are far from enamoured with the gym. Melany K's clothing is designed for normal women by normal women. You don't need to have a supermodel figure to look good in the high-waisted exercise leggings and you don't need perfect cleavage to fill out the sports bras. Whether you're a first time gym-goer or you consider yourself a casual exerciser, Melany K's clothing is for you.
What is Melany K's Vision?
 Melany K wants to encourage people with hectic lives to squeeze in a work out where ever they can. She knows how challenging this can be, but she also knows that when you look good and feel comfortable you automatically feel more motivated to work out. By offering high quality activewear at affordable prices, Melany K hopes that women of all shapes and sizes are encouraged to grab their bike, hit the gym, or even just go for a walk through the park.

If you're tired of trying to adapt your body to fit other people's ideas of perfection, it's time to scrap your old activewear brand and dive into the world of Melany K. Don't let impossible body standards dictate what you should and shouldn't wear. Slide into something comfortable and affordable and start your personal fitness journey today.